Author: Michelle Chun
Art: Helen Hardin, Messenger from the Sun, 1980.
Artists have long been notable statement makers in design, culture, and politics by recreating moments in history through tangible mediums. For this specific artist spotlight, I have compiled a list of Native American artists who have ventured into realms of multimedia, photography, fine art, and beyond. Their works of art represent a culture saturated with pride for their heritage despite the trials and tribulations within American history.
Nicholas Galanin 
Galanin is a conceptual artist and musician of Tlingit and Ungangax descent, residing in Sitka, Alaska. He dedicates homage to his culture by uniting contemporary aesthetics with traditional elements. His art often includes remodeled objects, some of which include masks formed from anthropological texts and etching handcuffs that were used to tear indigenous children from their families and homes. Galanin's broader message reflects on society's habitual need to bury historical truths. Thus, his works of art dismiss the "settler" narrative and focus on the connection and disconnection from the land existing in the past, present, and future. He emphasizes cultural amnesia and recovery to argue that culture cannot be contained within a textbook alone.
The American Dream Is Alive And Well, 2014
Frank Buffalo Hyde
Hyde is a multimedia painter and visual artist of Onondaga and Nez Perce descent. He infuses color play into his art, resembling a mixed aesthetic of street art and graphic design. The collaboration of these different areas produce a youthful surrealism. He rejects the stereotypical lane of "Native American art" and claims a different approach that mends the 21st century mind with his Native American heritage. He sparks dialogue upon America's unrest towards racial differences and the appropriation of indigenous cultures in modern society. Hyde's art provides a multifaceted experience by overlapping imagery to replicate how the human mind carries information—drawing inspiration from music, movies, politics—to represent the miscommunication between cultures.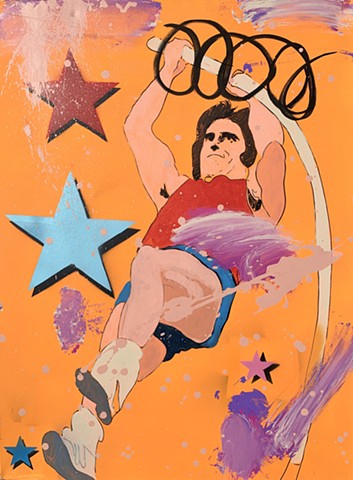 JENNER BENDER, 2017
Wendy Red Star
A member of the Apsáalooke (Crow) tribe, Red Star is a multimedia artist who portrays satire, awareness, and cultural insight within her artistic work. She speaks upon Native American rights and the common perception that Native American culture is a figment of the past. Through her various works of art, she has been able to uplift Native American women's voices within the field of contemporary art. 
Red Star believes that the Native American experience is a foundation of American history and should not be subjected to just her culture. Therefore, she studies different areas of Native American ideologies and colonization, both historically and modernly, to shed further light on those topics within her art.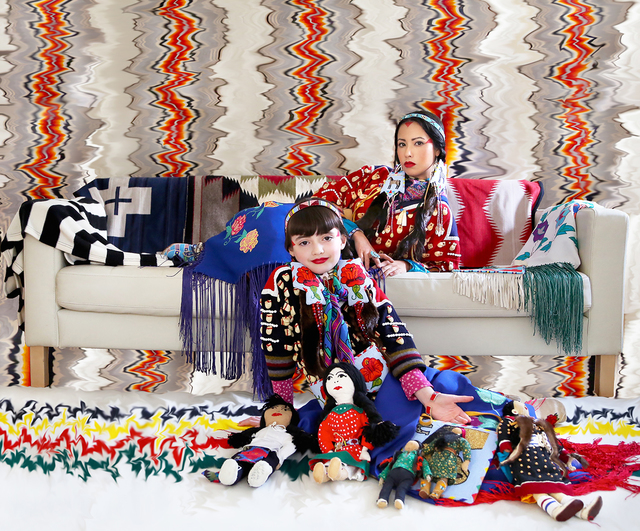 Apsa'olooke Feminist, 2015